Slack Partnership
Custom Slack services from an official Slack partner
+
Bringing remote teams together
With more people working from home right now than ever before, Slack lets your team stay connected, aligned and productive. Robots & Pencils can help you drive even greater efficiency with Slack apps and workflows customized to your business needs. Since 2014, we've been designing Slack solutions to make work faster, easier and more collaborative – including Missions, acquired by Slack in 2018 and relaunched as Workflow Builder. From our Slack Quick Start service to a smart Q&A engine, we have the tools and expertise to transform how you Slack.
Our Approach
Slack quick start
We'll identify and build quick-win use cases inside your workspace while showing your organization how to unlock the potential of Slack. Partner with us to ignite cross-team collaboration, increase information sharing, build company culture in Slack and accelerate ROI on every project.
Custom Slack solutions
Your Slack integrations, apps and workflows should be as unique as your company. Our custom solutions drive automation and efficiency by bringing key data and system processes into Slack. With Slack Directory Apps, we can also expand your company's reach with delightful user experiences that boost customer engagement. Whatever your goals, we can help.
A smart Q&A engine
Newt, our intelligent Q&A product, is in live beta and ready to be added to your Slack. Using natural language processing and advanced search technology, this smart Slack bot can pull information from your knowledge base systems to simplify onboarding, training and support across your company.
How We Slack:
By the Numbers
6K daily Slack messages sent at Robots & Pencils
200K missions launched since inception—and more every day'
10K users and counting reached through our Slack services projects
File management Slack Directory app
For sharing big files and big ideas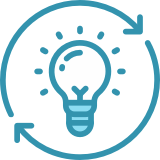 Automating common tasks in Slack
Acquired by Slack
Custom Slack integration
iOS Swift SDK development
Confidential Fortune 500 Company
Nurturing innovation at one of the world's largest enterprises
Leveraging Slack, Robots & Pencils created a global platform that allows an established network of internal leaders and external innovators to more easily connect. A custom bot now onboards participants into the network, creating a profile for them and introducing them to other participants. A matchmaking feature also allows users to find participants with specified skills and interests.
Bot-driven onboarding
Smart matchmaking to boost innovation
Ready to upgrade how you slack? Get in touch to see how we can help.
Ready to upgrade how you slack?
Career opportunities
Elite code commandos, special ops designers and hardened project generals — looking to transform the world? We have a place for you!